WOMEN'S STABLEFORD COMPETITION
WOMEN'S STABLEFORD COMPETITION
Since 2009, the England Golf Trust Women's Stableford Competition has been helping to raise funds for young golfers of all ages and abilities who would not be able to continue or to develop their game without this financial support.
The competition starts at club level as a women's stableford and  an entry fee of £2 per player (min entry £30 per club)  The winner from handicap index + – 20 and 21-36 then qualify for the final.
Top 30 pairs are then invited to play in the final on Tuesday 16th August at Kings Norton Golf Club.The day will include: coffee/tea on arrival, 18-hole four-ball better ball competition, afternoon tea, goody bag and prizes.
The Winning Pair shall become the England Golf Trust Women's Champions who shall be presented on the day with the 'Bridget Jackson' Trophy. The Winning Pair will be given a memento trophy to keep and take back to their club. The England Golf Trust will retain the 'Bridget Jackson' Trophy and have it engraved with the winners' names and club and it will be displayed at England Golf HQThank you to you and your club for supporting the charity and Good Luck!2021 Winners: Helen Ambrose and Natalie Farmer, of Gog Magog Golf Club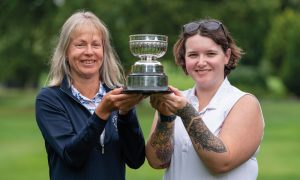 Photos: Credit Leaderboard Photography.