ENTER STABLEFORD COMPETITION
WOMEN'S STABLEFORD COMPETITION
Since 2009, the England Golf Trust Women's Stableford Competition has been helping to raise funds for young golfers from disadvantaged and financially challenged backgrounds who would not be able to continue or to develop their game without this financial support.
How to take part

This is a Stableford competition open to female amateur golfers of all ages who are members of clubs affiliated to England Golf and in possession of a WHS Handicap Index between + and 36.4 issued from a 'golf club'.
Stage 1 – Club Qualifying Competition
The qualifying round is run as England Golf Trust Women's Stableford competition at your local club's Ladies' Section. Nominate any existing Stableford to be the qualifying competition or put on a completely new Stableford. There is an entry fee of £2 per player (min entry £30 per club).
Two golfers will then qualify for the pairs final played as four-ball better ball. These will be the person with the highest score with a Handicap Index of + – 20.4 and the highest scorer with a Handicap Index between 20.5 and 36.4.
Combine these scores and submit before Monday 4th July on this ENTRY FORM 👉 2022 Entry Form EGT National Women's Pairs Competition
COMPETITION TERMS may be found here 👉 2022 Terms EGT National Womens Pairs Competition
Stage 2 – National Final
The top 30 pairs and ties will be invited to play in the national final on Tuesday 16th August at Kings Norton Golf Club. The day will include: Coffee/Tea on arrival, 18-hole Better Ball pairs competition, Afternoon Tea, Goody Bag and Prizes.
The Winning Pair shall become the England Golf Trust Women's National Pairs Champions who shall be presented on the day with the 'Bridget Jackson' Trophy. The Winning Pair will be given a memento trophy to keep and take back to their club. The England Golf Trust will retain the 'Bridget Jackson' Trophy and have it engraved with the winners' names and club and it will be displayed at England Golf HQ
Thank you to you and your club for supporting the charity and Good Luck!
2021 Winners: Helen Ambrose and Natalie Farmer, of Gog Magog Golf Club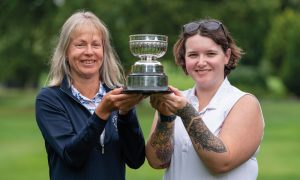 Photos: Credit Leaderboard Photography.